Boys and Girls Club Fair brings Lincoln Heights back together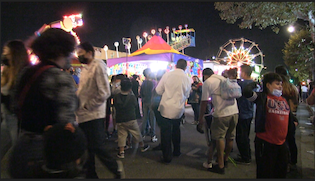 Last year was the first time in five years that the Los Angeles Boys and Girls Club canceled its annual Fair on Broadway in the community to help raise funds for the youth programs it provides to Lincoln Heights and the surrounding communities.
"It was a huge loss for the community. This is a time for everyone to be able to come together and have fun and enjoy one of the few things that this community loves and is proud of," said Daniel Santiago, a lifelong resident of Lincoln Heights.
That's why folks attending the fair on a recent Sunday were so excited for its return  — and the hope it represents after a challenging year of health issues and solitude.
"It's part of Lincoln Heights – part of Broadway – part of our generations, a great time for family and friends to get together and have fun again in a safe environment," said Yasmin Mora, a mother and lifelong resident of Lincoln Heights. 
Twin sisters Vanessa and Alexa Alvarado, ages 15, shared some of their favorite moments: "It's three days out of the year where you get to see the entire community and hang out with everyone," Vanessa said.
"In society, there's always [struggles] going on but when we get together here, it feels like all our problems go away. Seeing all the people here makes it feel like things are starting to go back to normal," Alexa said.
The Los Angeles Boys and Girls Club is a non-profit organization founded in Lincoln Heights in 1944 and it focuses on inspiring and enabling young people "to realize their full potential  as productive, caring and responsible members of the community." The program offers transportation from schools to the Boys and Girls Club, where there are after-school programs and events, summer camps, and scholarships. 
The Club offers low-cost memberships — giving almost everyone the opportunity to take advantage of its services. The fair on Broadway is one of the main sources of income for the foundation to be able to support the youth of the community. 
"We don't make money off of memberships. The money raised from the Fair is used to cover our vans and transportation for our kids, any events we have like the celebration day for our summer program. We get a big jumper and have a cookout for the kids to enjoy," said Charles Boyden, program and sports director at the Boys and Girls Club. "To see the kids with their families is the best part  — seeing that they have that support system and are out having fun outside of a school setting means everything to me." 
There were more than 800 people at the event on Sunday alone: Children from the club, their families, employees, volunteers, and residents from the neighborhoods and other areas.
"The turn out this year has been amazing — by far the most we've had since I've started here six years ago," said Carlyn Oropez, director of operations at the Boys and Girls Club. She added that the event doesn't just help the club, it benefits the broader Lincoln Heights community, particularly on Broadway. "Most businesses get more business because there's more foot traffic. The small community shops tell us they see more customers whenever we bring the fair here."
Community News produces stories about under-covered neighborhoods and small cities on the Eastside and South Los Angeles. Please email feedback, corrections and story tips to [email protected]