Golden Eagles celebrate seniors at final home game of the season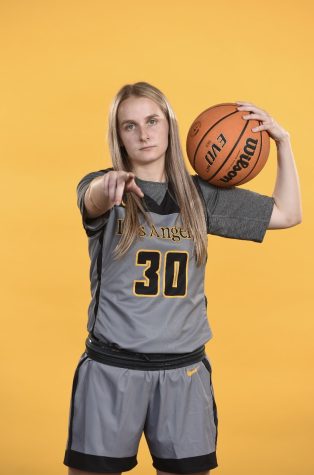 The first time seeing your uniform. 
Your first game in front of the home crowd. 
Hearing their reaction when you make a big play as the PA announcer calls your name. 
These are all moments that are unforgettable for any athlete. For seniors, these are the memories they reflect on in their final home game of their career: Senior Day. 
The men and women Golden Eagles' basketball programs both celebrated their seniors in their final appearance at the University Gym in the game against Stanislaus State.
Prior to each game, the seniors were greeted by staff, friends and family as they were recognized for their hard work and achievements as Golden Eagles. 
Guard Alyssa Fisher was the first of the seniors to be recognized. As the only senior in the women's basketball program, the only senior to play her entire career at Cal State LA, and  having been here since the 2017-2018 season the team did not hesitate to call the day "Alyssa Fisher Day." 
"The relationships I've made with my teammates, coaches and athletic department, I've truly met some amazing people being here," said Fisher. "That's what I'll miss the most. I really appreciate everything my teammates and coaches did for me. I will never forget this day." 
Fisher leads the conference in assist to turnover ratio (3:3), is second in the conference in total assists with 92 and is averaging 4.6 assists per game. Her future plans are to get a graduate assistant opportunity and start her journey of becoming a college basketball coach, giving back to the game she loves. 
For the men's team, guards Elisha Duplechan and Lyrik Shreiner shared similar stories this season. Though both seniors are first-year players for the team and currently injured, they are thankful for their experience with the team. 
"This season taught us resiliency," said Duplechan. "Something that goes beyond the game of basketball into the real world." 
Though he has faced several injuries this season, he maintained a positive mindset when speaking about building lifelong relationships and how the season has progressed.
"I feel like everyone on the team had a great relationship on and off the court," said Duplechan. "I'll miss playing with this team."
Duplechan plans to return home to Sacramento after graduation and start a career in real estate. 
Shreiner showed gratitude for his opportunities as well, despite injuring his right hamstring twice this season.
"It's been tough because we were basically on pause because of COVID-19 and on top of that I was injured," said Shreiner. "It's unfortunate, but I am still grateful to be here."
Shreiner is thankful for his teammates and coaches, and his current injuries are not stopping his plans to continue playing ball. 
"I will pursue a basketball career after this," he said. "I'm going to go for it and see where it takes me."