Golden Eagles Seize Hard-Fought Win in NCAA Tourney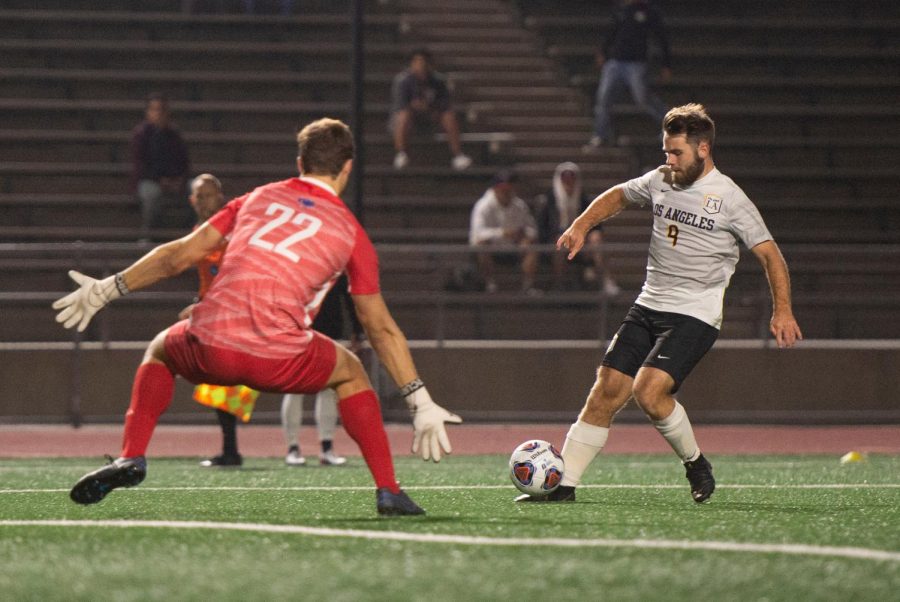 Cal State LA hosted and defeated St. Mary's University of Texas, 5-3 in a penalty shootout, after the game was deadlocked in a 1-1 tie at the end of regulation and overtime on Thursday.
The game was a lengthy thriller that left the crowd in suspense. However it didn't stop them from voicing their loud support, as they repeatedly cheered "LA" and "Let's go keeper" during the penalty kicks.
"To be honest I was scared, and excited. We've already gone through one penalty shootout that didn't go our way," said goalkeeper Alexander Brems about his emotions when he knew that the game was going to end in penalty kicks.
The penalty shootout began with Cal State LA. Midfielder Tim Klefisch made the first shot giving the black and gold a 1-0 lead. Soon after it was the Rattlers's turn, but their kick was stopped by Brems. Cal State LA would eventually win the shootout, with the game-winning goal coming from defender Jesper Evensen. 
"[I was] kind of nervous, but I knew that if I just stuck to my plan and didn't change my mind then I knew I was going to score, " said Evensen on his thoughts leading up to his crucial goal.
In regulation the Golden Eagles scored the first goal of the game in the 29th minute. The goal came off an assist from midfielder Leonardo Noguiera, who found an open Carl Solli in stride for the score. 
The 1-0 lead would then be knotted up at 1-1, after a long distance shot from St. Mary's University midfielder Carlos Blasco tucked into the near post.
Despite the close score the Golden Eagles dominated throughout the match, leading the game with a 21-11 shot advantage. However, most of Cal State LA's golden opportunities were stopped by the Rattlers's keeper Gerard Roebuck, who ended the match with a stunning 10 saves. 
"I thought the guys did great, we created a lot of chances; their keeper played pretty well. We hit the post once or twice. We kept pushing the game as good as we could, we got a goal and we thought we'd get a second but we ended in penalties," said Head Coach Chris Chamides on his team's opportunities in regulation. 
The squad will have to prepare for their next battle against a team they faced before, Cal State San Bernardino. 
The Golden Eagles last played the Coyotes on Nov. 15 where they defeated them 2-0. Cal State LA will try to get another victory against the "Yotes" in the Regional Final at home on Dec. 7 at 6 p.m.