Golden Eagles Sweep the Tritons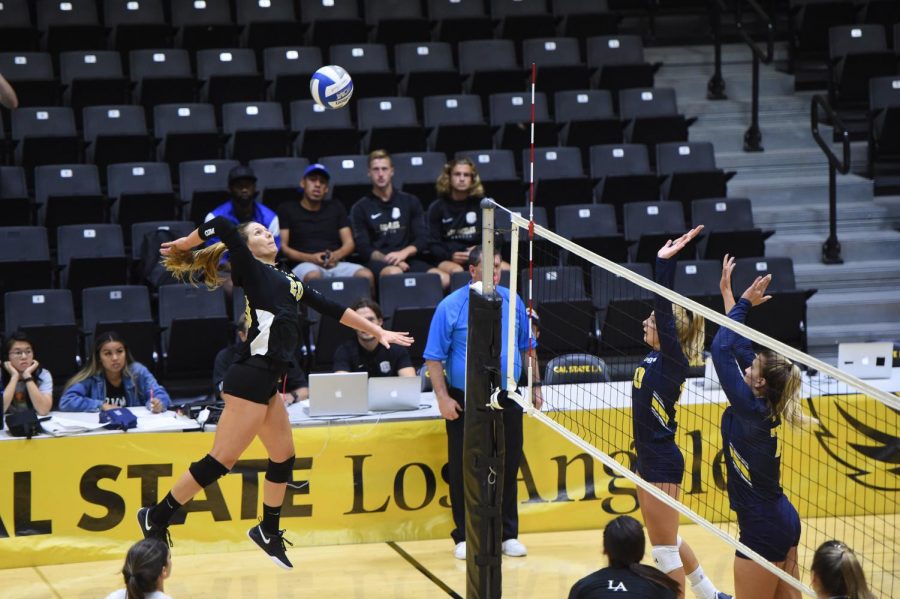 Cal State LA defeated UC San Diego in three straight sets, bouncing back from a tough loss against unbeaten Cal State San Bernardino. They won the sets 25-23, 25-13 and 25-21 respectively. 
The eagles now sit at a 5-1 conference record, and a 9-5 record overall. The women improved by limiting their errors. They ended with eight serving errors, which is seven less than what they committed in their prior loss to the Coyotes. The eagles held a 38-29 edge in kills, a 9-7 edge in blocks, and a 6-1 edge in aces against the Tritons.  
The black and gold got a number of solid performances. Outside hitter Alejandra Negron lead the team with nine kills. Middle blocker Daisy Crenshaw added eight kills and four blocks. Setter Shea McGovern chipped in 18 assists and committed zero errors. 
Crenshaw talked about how the team was able to regroup and get the sweep after the difficult loss. 
"We just came out here expecting everything. We were preparing ourselves to go hard from the beginning. Our first goal as a team is to win our first set, get that out of the way and keep going."   
Head coach Juan Figueroa admitted that they did play a different team, which factored into their win, considering that Cal State San Bernardino is ranked number one in the nation. However, he continues to seek improvement with respect to his team's errors and consistency. 
"We just got to try to continue to get better. Try to execute the game plan. We've had trouble [with] that," said Figueroa. He elaborated pointing to an example from the match, Cal State LA won the first two sets against UC San Diego but allowed the Tritons to mount a near comeback in the third. 
 Daisy Crenshaw expects the team to go into the next game with high energy. 
"Like our coach says, 'we got nothing to lose at this point.' So [we] just [need to] go out there and do our thing."