It grows like this
Embracing Black hair's strength, beauty and versatility
In early African culture, many believed that their hair spiritually connected them to God due to it being close to the sky, according to BBC News. Popular Black hairstyles that you see today like locs, box braids and hi-top fades, are found in "drawings, engravings and hieroglyphs from Ancient Egypt," according to History.com.
These complex and unique hairstyles along with others were historically worn to signify "marital status, age, religion, wealth and rank in society," according to odelebeauty.com.
Black hair was so important to Black people that it was always styled and maintained, until the beginning of the transatlantic slave trade. During enslavement, disparaging and harmful ideas that later led to assimilation were forced onto Black people and their hair by white slave owners, according to cbc.ca.
Slavery was abolished in America 157 years ago, and on March 18, 2022, the Creating a Respectful and Open World for Natural Hair Act (CROWN) was passed in the House of Representatives. The CROWN Act is a law that "prohibits race-based hair discrimination, which is the denial of employment and educational opportunities because of hair texture or protective hairstyles including braids, locs, twists or Bantu knots." The CROWN Act has been passed as law in 19 states, including California. The bill now sits with the U.S. Senate, according to thecrownact.com
From the dawn of time to now, Black hair has represented the resilience, artistry and beauty of Black people. It's no different at Cal State LA, where Black students proudly describe their hairstyles for the UT's audience.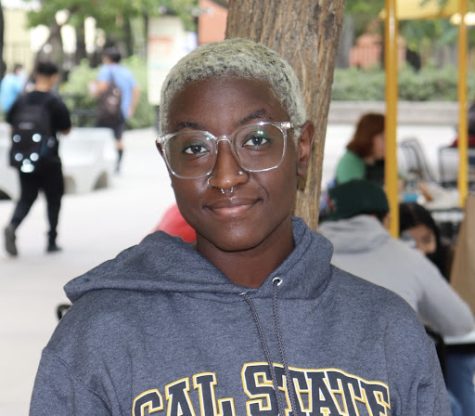 "In the Black community, for women, hair maintenance is a huge thing," said Cleo Goodwin, a communications major. "Online the 4C hair community can be very toxic and because I'm a Black woman who is very lazy when it comes to my hair, I was like, it's time for this hair to go." 
4c hair is considered to be the tightest curl pattern of all the curly hair types and tends to be dry and porous, according to refinery29.com. These tighter curls are naturally prone to shrinkage when not stretched out by heat styles. This subjects them to texturism in the natural hair community. 
Texturism is "the discrimination faced by those with coarser and more Afro-textured hair." It is rooted in "the premise that hair textures closer to white are more acceptable," according to forbes.com.
Many have called the natural hair space "toxic" for often excluding 4c hair and focusing on looser curls as the ideal hair type, according to refinery29.com.
Goodwin said that she had wanted short hair since she was around 11. "Once I finally got to college, I found some clippers and just cut my hair." Goodwin chose to dye her hair blonde after being inspired by other Black women who rocked blonde hair. "It's like damn, that looks fire! I wanted to give it a shot and have loved it ever since."
"My hair journey has been a hard one. It started in 2020 when COVID was going on. I started growing my hair out because I just had nothing better to do," said Jalen Harlow, a mass communications major. Harlow said he had tried many different hairstyles, including wearing braids and Afros.
Because he has coarse hair, "it was hard for me to find products to keep in my hair to make it softer and look more presentable because there wasn't really anything I could do." Harlow noted that overwashing his hair led to it being more brittle, and after trying many different hair oils, he decided to loc his hair. "Locking it was kind of a hard process because I hate the in-between stages of locking your hair." He is a year into his loc process and said, "It's definitely been a journey, but I'm happy where I'm at with my hair right now."
Harlow considers having locs as a lifestyle that he embraces. "When people are like, 'oh, you have dreads,' I'd be like, no, I don't have dreads cause there's nothing dreadful about my hair. So I just call them locs."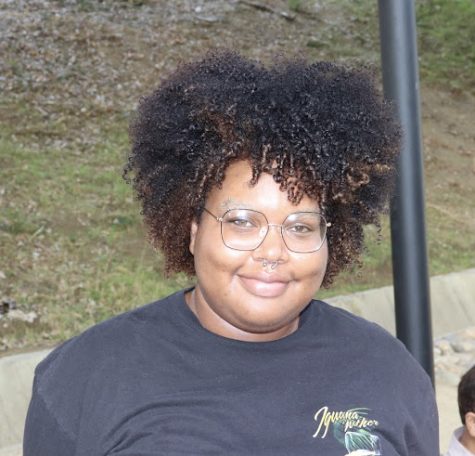 "I grew up straightening my hair constantly. I never wore my natural hair out until I was 14 or 15, did a big chop, and started my natural hair journey," said Aaryn Cranon, a women's gender and sexuality studies major. "It just really helped me to reclaim my own sense of femininity and masculinity. I learned a lot and taught myself a lot, and it was all just trial and error."
Cranon, who uses they and them pronouns, said their big chop gave them the confidence to shave their head a couple of years ago. "I've just been growing it out ever since and kind of just enjoying the journey, but I love my hair so much," they said. "It's my favorite thing ever."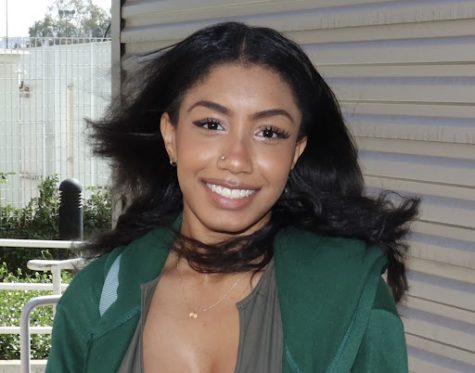 Jaelyn Lynton, a social work major, said that she's been straightening her hair for the most part but was natural for most of her life. "I wanted to try something new and kind of switch it up. So for the past couple of months, I've been straightening it, but I'm thinking about going back to natural [hair]."
Lynton shared that it was really difficult embracing her natural hair when she was growing up at an all-white school. "I was kind of the only one who had curly hair. People would complain that they couldn't see over it, or they'd make me feel like I was different. So it was really hard". She attributes this to why she wanted to branch out and try something new with her hair. "I'm kind of exploring to embrace my culture, and that's why I'm considering going back curly."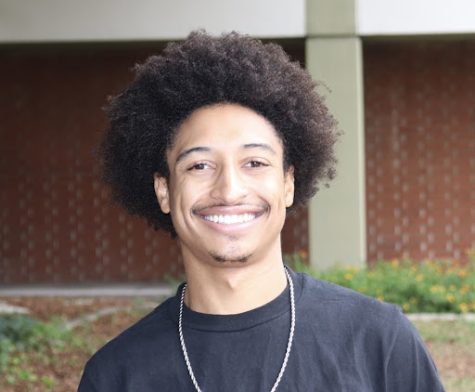 For a long time, Kijana Blount, a theater major, didn't like to do his hair growing up. "My dad would like to cut it. But I also didn't like how I was looking when I was bald. I started taking care of it one day and just letting it grow and it's been growing for over three years."
Blount said that he does think about cutting his hair too, or he'll braid it sometimes because it can be a lot for him. "[My hair] allows me to get to have different versions of myself."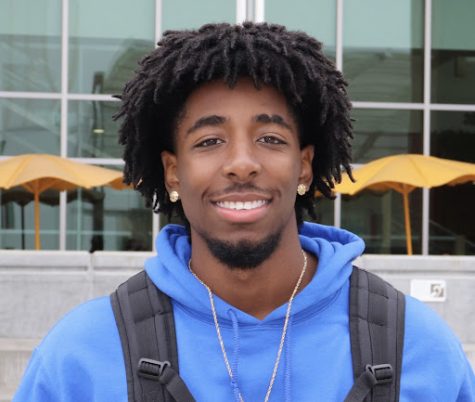 "I've been growing my hair out for a while, and I went through a lot of ugly stages because you got to do that," said Chris Colbert, an electrical engineering major. Colbert said that he initially had someone else start off his hair with finger coils and now he maintains it himself.
Finger coils are "a type of curl achieved by wrapping your hair around your finger. The end result is these tight and bouncy coils in your hair." according to naturallclub.com.
"I took each finger coil out and [separated them] into two, and then I've just grown it out over time." Colbert has never felt judged for his hair and said, "People usually say they like my hair." He said that he has a good relationship with his hair and that he loves it.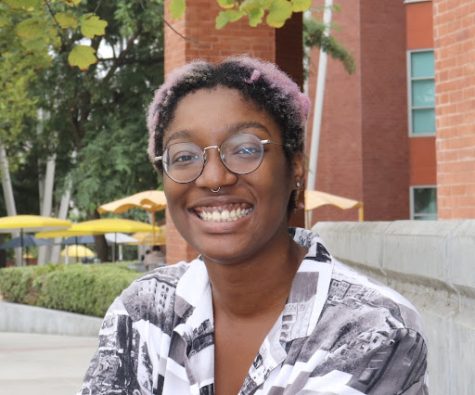 "When I was younger, I had relaxers because it was more manageable for my mom to do my hair. But as I got older, I liked the whole colorful hairstyle aspect," said Crystal Cunningham, a biology major. 
"Relaxers, also known as a perm for Black hair, is a chemical treatment that straightens curly hair by breaking down the bonds in the hair shaft," according to byrdie.com.
Cunningham noted that during that time, having relaxed hair that was also color-treated was seen as two chemicals at once, damaging natural hair. "A lot of people were warning me, saying 'be careful your hair might fall out' and all that."
She said that in the beginning, she went to professionals when it was colored and relaxed and it lasted for a while. "One time, I did it by myself, and I over-processed it. I had like a chunk [of hair] missing." It came to a point where a professional told her she ruined her hair and needed to shave it all off but she didn't feel comfortable going fully bald. "During that point, I came to a decision, I either do colorful hair and then keep it natural or plain boring black hair and keep it straight. I'd rather be more expressive and do the color. So that's why I started my natural hair journey."
In her natural hair journey, she felt that it was hard to understand her hair; sometimes, she just wanted to cut it all off. Cunningham also watched a lot of YouTube hair tutorial videos to get a better understanding of her hair. "I do more protein treatments and hydrations when I bleach it because now I bleach and dye my own hair. I'm better at it now. I know the how-tos and what not to do now. So I've been doing that for a while."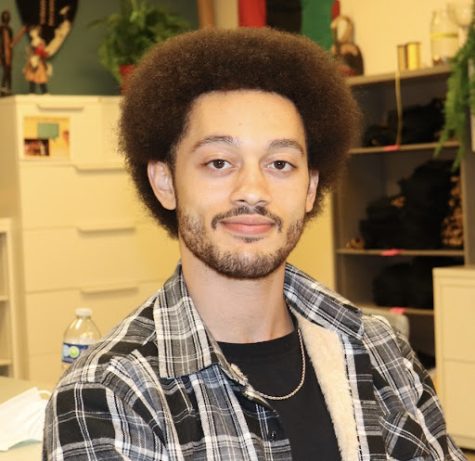 "My dad had an Afro so I rock an Afro," said Devin Page, a digital film major. "I think it's really cool. I like growing it out. I really enjoy it, it kind of covers up a little bit of me." Page said he's been growing his Afro out for about a year now and it's part of his identity. "I feel like people find my hair fascinating. People always kept touching my hair, I didn't really care but my mom didn't like it."
He recalled his mom feeling that people were touching his hair as if he was an exotic animal. Page said he went to middle school in San Antonio, Texas where most of his friends had straight hair. He remembers comparing his hair to his friends' and thinking straight hair was cool, but his mom had told him he was fine just the way he was. "I'm definitely comfortable with the skin I am in, over the years. I just enjoy it."
"When I was four, my sister convinced my mom to perm my hair, so of course, it all fell out," said Ariel Benson, a nursing major. Benson said that no one in her family knew how to take care of her hair in order to get it back to being healthy. "I struggled with my hair, especially because it's 4c, so it was really coarse. I was on and off of perms trying to make it look a certain way, to make it appealing."
It wasn't until high school that Benson cut all her hair off, and when her roots started to grow in she cut off her perm. "I started using a [hair] sponge and buying natural products and just really investing in it and loving it. When it really started growing, I think is when I started loving it." Benson was around 27 when she started loving her hair but had to cut it again because she got heat damage. "But then I found a hairdresser that specializes in natural hair, and she put an amino acid treatment on my hair."
Benson said that this amino acid treatment brought out her original hair texture and that her hair is really healthy and flourishing now. She credits the natural hair movement and Black-owned businesses to her improved relationship with her hair. "Once we started seeing our businesses grow and invested personally into our hair and the type that we have, it worked. I even started making my own little products every now and then."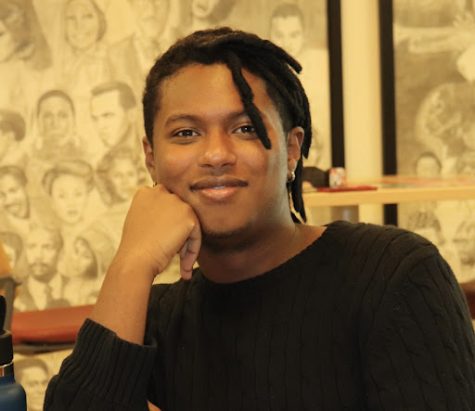 "My hair journey was actually very traumatizing," said DeAngelo Ramirez, an English major. "I was born in the Bronx, New York, and I had nice curly hair. It was kind of like a little fro with defined curls, but we had to shave it off." Ramirez said that he had to keep his hair short for the most part because of the stigma of Black people and having hair. "My mom didn't want me getting braids or dreads for a long time. It wasn't because she had a problem with it. It was because of the fact that people were racially profiled by the NYPD, especially because of stop and frisk."
Now that Ramirez is no longer living in New York, he felt it was a good time to start his loc journey. "I still get worried because of that stigma and the stereotypes of what being a Black person is, but then I'm like I'll be okay." Ramirez noticed a change in how he was treated when he had shorter hair or even when he had straight hair, versus now with locs. " I noticed that a lot more people gave me validating attention for that." Ramirez said he had an ex-boyfriend who would always tell him that he should straighten his hair. "It was weird, not gonna lie. I was uncomfortable most of the time with that experience. It was something I don't really like to look back on." 
Ramirez always wanted locs as a kid, and to this day, he really likes the versatility of the style. "There's some days I'm in a ponytail, there's some days I'm in a bun, sometimes it's all up." He also likes the cultural background of locs, what they symbolize, and how they make him feel more himself. "My relationship with my hair is now starting to acknowledge a lot of my Blackness and acknowledge that I am not what those stereotypes are."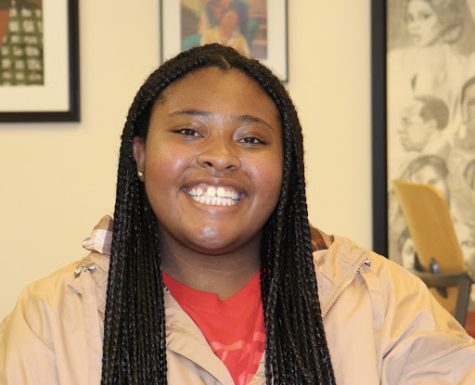 Chelsea Evans, a political science major said that as a little kid she always felt different because of the school that she went to. "It was mostly a Caucasian school. So, when it came to my hair, I always felt different, but I just loved my hair." Evans said she always wore her natural hair out and there was never a time in her hair journey when she felt like her hair wasn't enough. "I kind of just knew inside that, if I'm the only Black [person], I'm gonna stand out." She said kids would comment on her hair growing up and she'd always have a witty comeback for them.
Evans never wanted to straighten her hair so her hair journey included twisted styles and later on, she started wearing braids. "I have thick hair, and it's a force of nature. I've been through a lot of hair dryers." Evans said that wearing her natural hair out is a lot of maintenance and that she is learning to have patience, but for now, she loves her braids.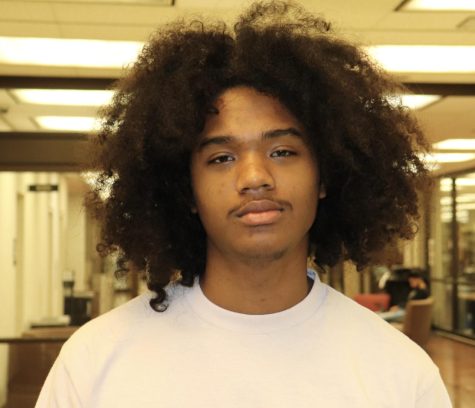 "I feel like society has kind of accepted my hair. I get a lot of compliments on my hair. It definitely kind of breaks necks in a way," said Darion Hammonds, a business major "It definitely attracts a little bit of attention here and there but I think it's positive attention. I haven't gotten any negative attention for it yet." Hammonds said that maintenance wise it's definitely difficult most times to do his hair. He said that the more hair you have, the harder it is to maintain. "I've been growing it out for about two years. There's not really a real reason why I decided to do it. It just kept growing, and I just kept letting it grow."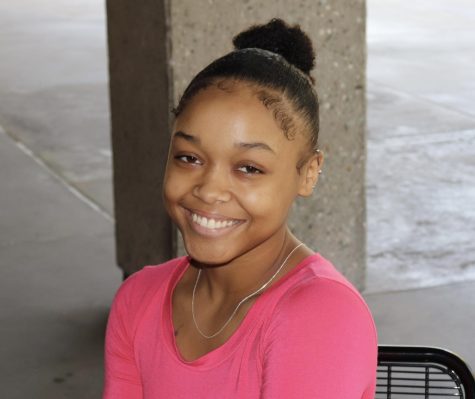 Around June 2021, Kaiya Johnson, a pre-criminal justice major, did her second big chop on her hair. "Right now, I'm starting fresh. I'm in the bun stage. I'm still learning about certain hairstyles." Johnson said she's still figuring out how to take care of her hair. "I still don't know a lot, even though I'm still trying stuff that is working. It's still hard." Johnson's favorite part of the process is how low-maintenance short hairstyles are and learning more about her hair.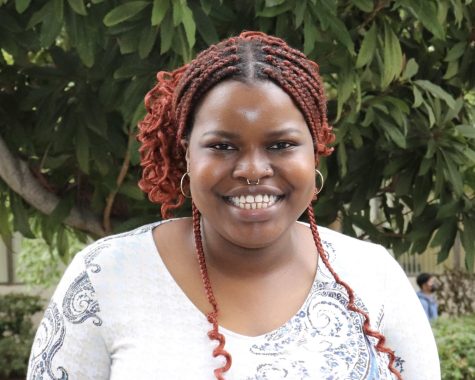 "When I was younger, my mom especially- we didn't do much with my hair," said Zainab Sulaiman, a computer science major. She never felt like she had to change her hair in order to assimilate but recalls looking back on childhood pictures and thinking, "Wow I went out of the house like that?" Sulaiman said that she usually keeps her hair in braids which are considered a protective hairstyle in the Black community. "I'm trying to embrace my natural hair,"Sulaiman said. "I just take care of it as best as I can. I watch tutorials and take advice from other people that know a lot more [than she does]." She said she learned ways to take care of her hair in braids. "I've been able to start washing my hair in braids, so there's not so much buildup," said Sulaiman. She has also learned how to dye her hair without bleach in order to not damage it, and plans on dying it again soon.