'Love Being You' unites Black women for an illuminating conversation
Ashley Gregory knows firsthand how vital it is for Black women to have a place where they can express themselves."It's good for us to have spaces where we can be among ourselves…be in community with one another and get that emotional support. ["Love Being You"] is helping to create more spaces for Black women here at Cal State LA. We don't have exactly the highest proportion of Black people here on campus (5.7%)," she said.
On Oct. 19, the Pan-African Student Resource Center (PASRC) held a "Love Being You" event which took place during Cal State LA's Well-Being Week. "Love Being You" brought together Black women in order to build camaraderie with one another through discussions of shared experiences.
"Love Being You" was originally a week-long retreat that originated around 2017, made for Black women by Black women. However, the PASRC no longer has the funding that it had in the past, according to the student program coordinator for PASRC, DeAngelo Ramirez. To honor the self-care aspects of the original event, swag bags and positive affirmations were given out to the attendees. Tote bags by "What's Good, Homegirl?!" were each filled with a goody box from Junie Bees Butta. Both are Black-owned businesses that partnered with PASRC at AfroFest earlier this semester. 
Ramirez was adamant about continuing the event because of the hardships he's seen Black women in his family go through. He wanted to make sure Black women students and faculty had a place where they could feel safe and connect and even implemented a "Code Switch Off" so that the women could speak comfortably and be themselves.
"Code-switching involves adjusting one's style of speech, appearance, behavior and expression in ways that will optimize the comfort of others in exchange for fair treatment, quality service and employment opportunities," according to Harvard Business Review. 
Code-switching has been a strategy in the Black community for a long time. According to Harvard Business Review, research shows that this change in vernacular happens in spaces where negative stereotypes of Black people contradict what some deem "appropriate" behaviors for a particular setting. 
Ramirez selected two Black women to assist him in the event, Associate Dean of Students Dr. Isis Stansberry and Gregory, who is the center specialist in the Gender and Sexuality Resource Center.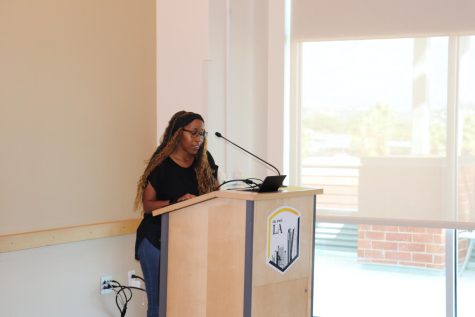 "I think I'm the only Black woman that's working in the center currently," Gregory said. "DeAngelo wanted to have that direct perspective helping to facilitate the meeting instead of having himself do it, which I really appreciate. It's a cool opportunity for me, and it'll be a nice space to be a part of."
The event started with an introduction from Ramirez and was followed by brief speeches and excerpts spoken by Stansberry and Gregory to help inspire discussion among the women attendees. These passages and poems came from the Seven Psychological Steps of African Americans by Dr. Joseph L. White, Desiderata by Max Ehrmann, and the body pledge. 
"I'm really happy that the Pan African Student Resource Center is bringing this event back because there are limited spaces on campus," Stansberry said. "There's just a certain way that all cultures communicate when they engage with each other. For them to open this up to have an authentic Black space is something that we need. I think it's really great."
Tymera Leonard, a history major at Cal State LA, was one of the first students to come to the discussion. 
"I was very excited to hear about this event because I feel like it's important for this campus to have a space for Black women to speak, be proud of who they are and be able to share stories, whether they're good or bad stories," Leonard said.
Dr. Natalie Williams, who teaches in the Rehabilitation Services program, also attended with her stepdaughter and friend.
"I like to support everything on campus that's student-related, especially at different intersections of student identities," Williams said. "This topic is just right up my alley."
Williams said she was looking forward to connecting and meeting with other Black faculty and students and thought that it was beautiful that PASRC held space for that. 
Students and faculty could participate in an open and respectful dialogue exchange where everyone was welcome to speak. Topics such as finding community as a Black woman on campus and networking with Black women faculty members were discussed. Attendees were encouraged to ask for help and not fall into society's "strong Black woman" stereotype. They expressed how it was okay to ask for guidance when needed because it is part of being a human. 
"Many Black women in America report feeling pressured to act like superwomen, projecting themselves as strong, self-sacrificing and free of emotion to cope with the stress of race- and gender-based discrimination in their daily lives," according to UC Berkley's Greater Good Science Center.
Stansberry also discussed how PASRC could stimulate bigger crowds for these conversations because the attendance was approximately 20 people, including students and faculty. 
After discussing their personal hardships, which included juggling a full-time job with full-time classes and life stress, not knowing how to ask for help or not wanting to, moving far from home to go to school and feeling isolated, graduation stress, and other topics, these issues were all met with advice and understanding, and the meeting ended with Gregory asking what brought everyone joys in their lives. 
The gathering brought in students like Jenia Nicol, who is an accelerated nursing program major. Nicol saw the flyers around the Student Union event and decided to come in during her break before class.
"I kind of felt like there was no one that I could relate to in my programs, and since I was surrounded by those people all the time, I knew I had to branch out," Nicol said. "Seeing people who share similar experiences to me, who can relate to me, and being able to talk about those experiences felt really good."
Television, film, and media studies major Rosemary Ché came to the event because she was passionate about meeting other Black women on campus.
"I just wanted to make more friends and have that conversation," Ché said. "After this, I feel really excited for the future because I know most of these events are going to come back, and I can't wait to meet more people."