Men's Soccer Wins Fifth Straight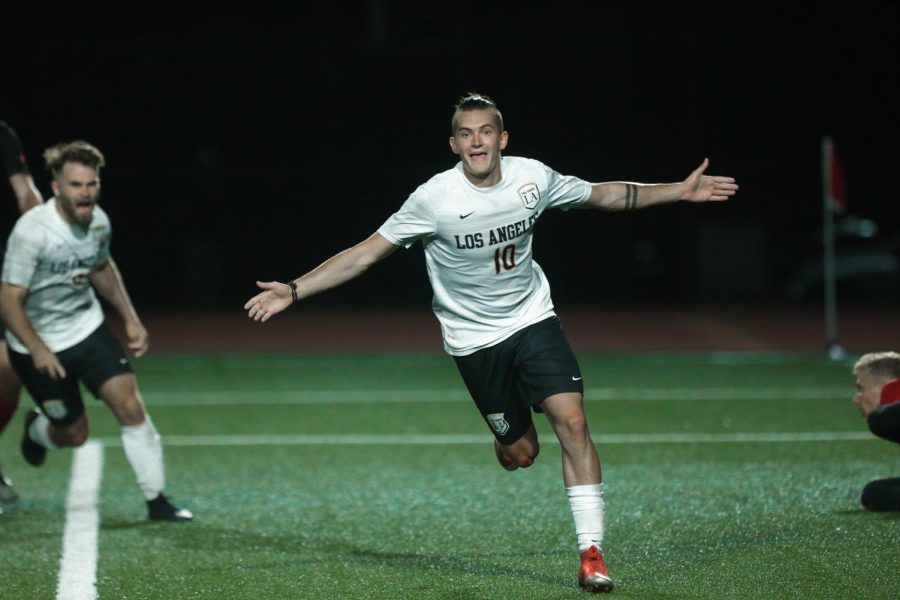 Cal State LA remained undefeated after a victory over Biola University, and Chris Chamides got his 200th win as head coach.
The black and gold took the lead in the first half, thanks to midfielder Tim Klefisch, who scored a high and left goal, after Biola defender Axel Van Cleve committed a foul, allowing Cal State LA a free kick.
"When I scored the first goal it was a good feeling … but I didn't expect to score [on a] free kick because I never scored a free kick before," said Klefisch.
Right after Klefisch scored, Van Cleve received a yellow card for the foul. 
Cal State LA midfielder Morten Bjoershol had a chance to increase the lead, but missed left on a shot early in the second half. 
Bjoershol got another chance at goal soon after, scoring high right off an assist from a corner kick by midfielder Daniel Simonis 11 minutes into the second half.
After the goal from Bjoershol, Biola head coach Todd Elkins went to his bench and substituted Jeffery Battaion and Jack Kilgallon for Axel Van Cleve and Jonathan Serrano.  
The substitutions for Biola proved beneficial when Kilgallon scored Biola's first goal of the game. He scored high left, from an assist by Leo Thompson. 
Cal State LA still had the lead, until Thompson scored the equalizer., tying the game 2-2.
It was an unexpected shock for the Golden Eagles. The goal from Thompson came minutes before the game ended and forced over time. Neither team scored in the first period of overtime.
Within 30 seconds of the second overtime period, Golden Eagle midfielder David Elizaga broke the tie, and Cal State LA escaped with a 3-2 victory.
"It was a great feeling and it was a really good play by us. We had a good combination [which led] to a great cross, and I just had to top it in," said Elizaga.
The Cal State LA men's soccer team will play its first conference game of the season against Stanislaus State at home on Sept. 27.
Coach Chamides is anticipating a tough foe. 
"Stanislaus is always a strong opponent. We need to get our bodies back after an overtime [game]here tonight, and we expect a really strong match."