Monkeypox not yet a major concern for those on campus
If one pandemic weren't enough, concerns of an additional virus outbreak crept into public health discussions this year.
Although the Monkeypox outbreak was declared a State of Emergency by Gov. Gavin Newsom at the beginning of August 2022, experts at Cal State LA's Health Department said the college campus setting doesn't pose much of a risk for Monkeypox transmission at this time.
Because of its low transmission rate compared to COVID, Monkeypox "is not as concerning to the general population," said Interim Student Health Center Director and Medical Chief of Staff, Dr. Paul Kim.
Monkeypox is "something that, of course, needs to be watched and monitored," he added, "But it's not having that same kind of impact for colleges and universities" that COVID has.
This is mostly because of how Monkeypox is transmitted.
"[Monkeypox] generally is spread through intimate contact," Kim said, "not by casual contact and definitely not by being in the same indoor air space like (with) COVID."
Specifically, transmission mainly happens through contact with rashes and scabs, according to Kim.
"Monkeypox is transmissible all the way until the scabs have fallen off and a new layer of skin has grown," Kim said. 
The Monkeypox outbreak has made some students cautious, but not exactly worried.
April Gonzalez, a psychology student and undergraduate administrative support assistant in the psychology department, said that hand washing and sanitizing is something to continue doing amid the new virus scare.
If Monkeypox does happen to ramp up, Gonzalez said that since Cal State LA "took the appropriate measures with COVID," Gonzalez is "sure they'll take the appropriate measures if that time comes."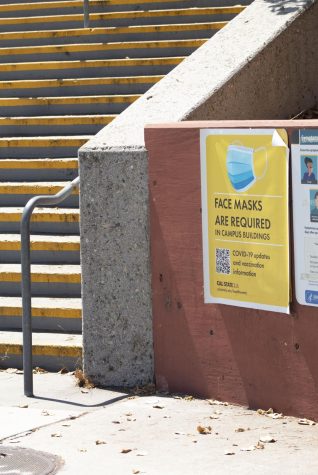 Kim said that unlike with COVID-19, Cal State LA has no unique regulations in place to protect students from Monkeypox at this time.
However, there is a chance the outbreak could escalate and present a larger risk.
"Anything's possible because we don't know how it's going to develop in the months to come," Kim said. "The University at this time is just aligning itself with the L.A. County protocol."
As of Aug. 18, 2022, the Los Angeles County Public Health website reports just over 1,000 cases in the county. 
Guidelines on the L.A. County Public Health website suggest avoiding "very close and/or prolonged contact with someone with monkeypox symptoms" to prevent the spread. Additionally, the website recommends hand-washing and proper use of protective equipment if in contact with a potential monkeypox case.
The university was contacted regarding Monkeypox safety but was unable to respond in time for this story. The UT will update the story online when more information is available.