How a trans and nonbinary punk band are reinventing political music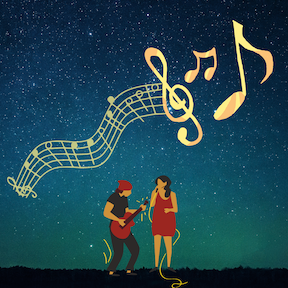 Cancer scares, transphobia and a police encounter as a Black trans person.
This convergence of unfortunate events was the beginning of a trans and non-binary punk band, You Guys Suck Like Real Hard. Shut the Fuck Up. Thanks. — known as Y.G.S.L.R.H.S.T.F.U.T for short.
Artists often have strong belief systems they incorporate into their work, their lives and lately, their social media presence. For this particular band, being political comes as a priority and is unavoidable.
"Growing up as a Black kid in a small town in North Carolina, it was not really the best for me so as soon as I could, I left," said Chella Coleman.
When Coleman, who uses she and they pronouns, moved to L.A., they dealt with homelessness while pursuing college. She alternated between couch surfing at friends' places and sleeping on the street since they didn't know anyone in L.A.
College is also where she first got involved with activism and started questioning their gender. 
"I was in a Trans 101 seminar taught by trans folks and I remember thinking, 'That's what I am.'"
Her experiences with homelessness, being Black and then realizing they were trans is what encouraged Coleman to get involved with activism, speaking up for those and other issues of discrimination. 
Formation 
The band came together in 2019. 
"Being part of a band just fell in my lap," said Coleman, who is the main vocalist of Y.G.S.L.R.H.S.T.F.U.T.
Coleman had been having a tough period in their depression when the folks who are now in the band first played music together. 
On the way to a doctor's appointment to see if they had cancer, she was pulled over by the police. Coleman was immediately scared and on edge. Getting pulled over only worsened an already stressful day.
She also recently had a disappointing interaction with a friend who is cisgender, or who identifies with the gender marker assigned to them at birth. A transgender person does not.
The friend didn't understand Coleman's depression and worsening mental health.
This all added up to Coleman being at an extremely low point mentally and one day, they self harmed.
She reached out to Uhuru Ali Moor, a person who had reached out to Coleman before to offer a supportive ear through hard times.
"I don't know what to do. I'm really depressed and I just self harmed. I don't want to be alone, can I come over?" Coleman recalled telling Ali Moor.
The response: An immediate "Yes."
Ali Moor secured a car share ride for Coleman to come to their studio since Coleman didn't have enough money to get there.
At Ali Moor's studio, Coleman met up with future bandmates Maya and Matias. After some drinking, smoking and meditating, Ali Moor convinced Coleman and the others to grab some instruments and make music together.
"After we did all of the songs we had just written and put together, I was like, 'Are we a band now?'" Coleman said. "Everyone was like 'Yeah, I guess?' I was so excited. I just thought it was so cool."
"That's our [Extended Play], actually. Literally, we turned on the record button and didn't even rehearse," Coleman added. 
Coleman, who grew up with a love for all things theater, arts and singing, said it felt natural to become part of a band.
They play original songs they write themselves and also do covers, "everything from Nirvana to Britney."
Their songs and platform as a band come from their experiences being Black, trans and poor as well as being anti-state and anti-oppression.
"We have values of land back, Black lives matter, especially Black trans lives. Our liberation is tied up in everybody's liberation. We won't get freed until everyone gets freed," Coleman said. "We are against all oppression pretty much and we use our music to make that known."
During COVID, they did online gigs but now that things are opening up, they're able to do some punk venues, clubs, bars, and political takeovers, such as their Pride takeover where they went and set up and performed without working with the event coordinators. 
One of their first takeovers was 2019's controversial All Black Lives Matter march which was meant to be a march to honor queer Black lives lost to police brutality and homophobia but was often referred to as Pride during the march.
Coleman reached out to a then-friend and asked if the Pride/BLM march would be anti-cop, pro-indigenous and disability accessible. Coleman never heard back.
"We wanted to reclaim the streets for Black and Indigenous folks," she said.
Another event Y.G.S.L.R.H.S.T.F.U.T. put on is "Queerpocalypse," which is used as a crowd-sourcing fundraiser to book and pay Black and Brown trans folks.
"Queerpocalypse is a way to destroy white cisgender hetero patriarchy by only having queer trans people of color performing," Coleman said. 
It includes a variety of artists and performances including dancing, comedy, rapping and more. These events are held online and in person to be more accessible and to keep COVID-cautious people safe. They try to organize one every few months. The next one is not yet planned. 
Yearly, the band tries to do an event for Trans Day of Remembrance. They like to put their own punk twist on it and call it Trans Day of Vengeance. 
"I think there's something powerful about trans folks reclaiming shit," Coleman said. "I just think it's powerful. I feel so blessed to be part of this group. There is something so powerful about having events that are all trans-led."
"As a band I think we bring that fire, that need to get these emotions out, needing to be at the forefront of these discussions. I'm going to be honest. People are doing a lot of talk about trans lives but people aren't putting their money where their mouth is. People are not supporting us. It's rare to be recognized for being an all trans band or doing queer pop. I need to survive. I'm a Black trans woman. Let's be real."
Coleman urges allies and white people to start doing better to support trans people of color and challenge white supremacy. She recommends people who want to support trans people of color to ask them to speak at events, to pay them for their efforts and educating others. They also ask that people consider accessibility and safe transportation. 
"I'm always about Black trans people being paid reparations. Don't tokenize us, make sure that events you ask us to speak at know what being trans is. It's not on me, a Black trans person, to call out transphobia or racism all the time. It's exhausting. Allies need to put their money where their mouth is and call that out in spaces they occupy. That goes for white queers being transphobic and Black people being homophobic."
Coleman thinks Black trans voices need to be uplifted now more than ever.
"Playing our music is literally therapy for us," Coleman added. "We don't do this because we want to get famous. We do this because we want to turn race and gender on its fucking head."