Cal State LA students speak against police brutality
The campus community shares opinions on the death of George Floyd and recent protests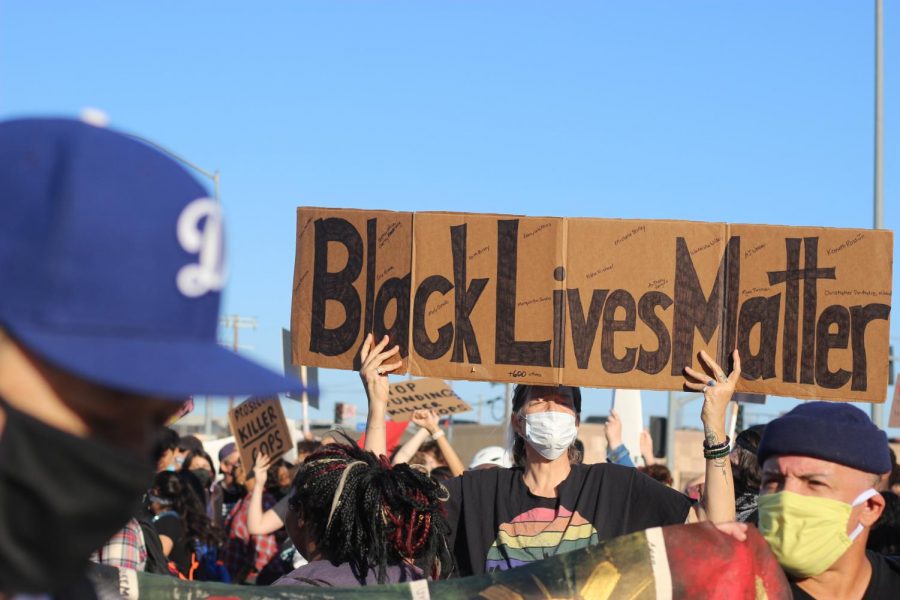 While states across the nation experience protests and riots due to the death of George Floyd, Cal State LA students across the political spectrum expressed upset in the police, but mixed reaction when it came to the protests.
Ryan Perez, a third-year human resources and business administration major, said the anger shown during the protests have been building up for years.
"We need this. We've needed this for a long time and the people who need it are primarily black and they need the support of non-black people right now," said Perez. "The reason why there's so much public anger is because, one, it's so blatant. But two, it hasn't stopped."
A conservative veteran and future transfer student to Cal State LA, Thomas Minter, didn't agree with the methods the officers used on Floyd. Based on his experience as a veteran and being in the medical field, Minter said, "From my viewpoint, I think it's absolutely unjustifiable."
He said when restraining someone, law enforcement have strict protocols to ensure that the person is comfortable and can breathe. Given the footage that went viral and the recent autopsy report that confirmed Floyd died of "asphyxiation from sustained pressure," as stated by the report, this essentially makes the police the "responsible party" said Minter.
Minter added that even if Floyd seemed like a threat at the time of his arrest, the police officers still could've restrained him without compressing his neck.
Perez believes the tactics the police are using when arresting someone are militarized and dehumanizing, "So you have all of these systemic issues… from training to sociological problems and they layer on top of one another until you get an incident like this… The actual problem is completely infected up and down the entire [police] system."
After watching the video circulating of George Floyd's death, incoming freshman and business administration major Lupita Rosales said she was disappointed in police's actions.
"It's just something that you don't do. [Police officers are] supposed to be the ones protecting us, but they're not and I feel like they should face the consequences and go to jail," she said. 
As the reaction of Floyd's death has caused protests and riots, Minter, the student who is a veteran, thinks the violence is obscuring the message of the Black Lives Matter movement. 
"I kind of believe that you can't really achieve your goal if you're going to create terror and fear and havoc. I mean that's kind of what they're standing against, you know, intimidation, fear, violence against their population," Minter said.
Perez said he suggests non-black protesters who want to vandalize property should refrain from doing so. 
"Don't tell people how to feel about this or how to express their anger and if you are just an opportunist wanting to like smash [things], don't. Don't do that," Perez said. "Use your brain." 
Rosales said she supports the need for protest, but agreed some are taking it to their advantage.
"I think people are doing the correct thing by protesting, but there's also a difference between protesting and destroying stuff. There's a lot of people who are taking advantage of this and they're destroying a lot of buildings," Rosales said.
Worried for his safety and his family's, Minter does not agree with the protests that have closed freeways nor the violence within the riots that is causing the movement's message to not be heard.
He did note that law enforcement needs help with their training on how to de-escalate a situation.
"When I look at this stuff…it seems like it's more of a training issue. Not an 'I hate this guy that I'm dealing with and because of his skin color,' but it's more of 'I've escalated this now to a certain point and I haven't been necessarily trained to recognize how to walk it back,'" said Minter.
It is about the color of someone's skin, said Rosales. "I feel like right now the place that we live, people are not being treated fairly because of their skin color and I feel… Mexicans, Hispanics, and black people are considered low class because of their skin color. I do think we should be aware of police brutality," said Rosales.
Hispanics made up about 52 percent of the inmate population, based on men and women's prisons in Sept. 2019, according to the last quarterly report from the LA County Sheriff's department. Black people made up 29 percent while white people were about 15 percent out of a 17,446 population size.
After nearly three months of staying home without jobs, Perez believes the "Safer at Home" order added to the anger people in the U.S. are currently feeling: "[That is] a perfect storm for protests, it makes it far more likely that people are pissed off and want to get out and they want to raise hell… Lives can't be replaced."