Out of Service
Modernization to blame for closed library elevators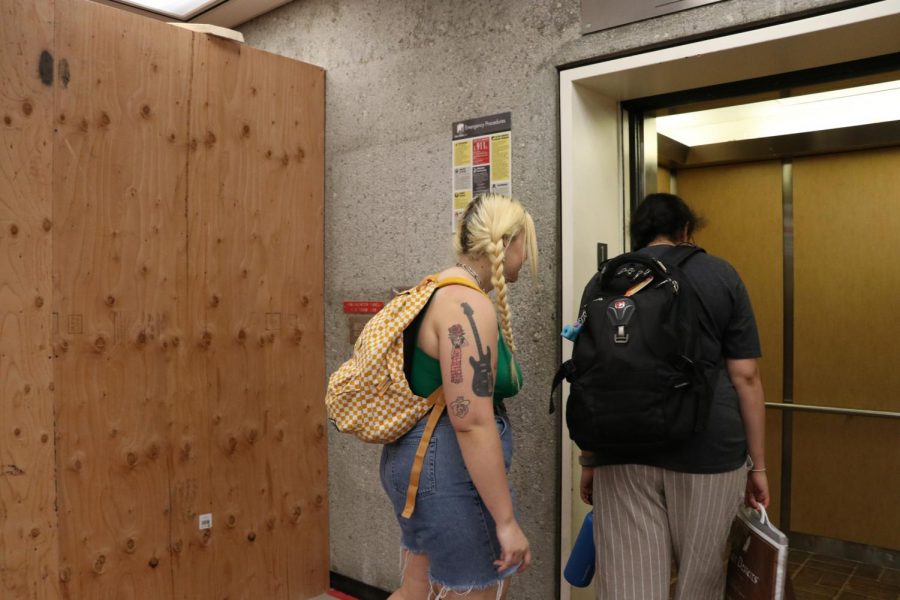 For most students, elevators are the way to go when you don't feel like going up or downstairs, but for students with disabilities, like Jonathan Garay, elevators are a major necessity. 
The University Library currently has two elevators out of use. One in the Library North and one the Library South. "I have enjoyed using the basement floors to study, [but] oftentimes the library elevator to the A and B basements will either be going up or gets packed at times," said Garay. This leads to him having to find alternative study places. 
"I have honestly found it dreadful. I have other friends with different disabilities and I have seen them suffer as well [due to] the lack of accessibility on this campus,'' stated Garay. "I have had to teach myself how to go downstairs with my whole manual wheelchair at times to improvise going down a floor." 
Garay has also witnessed one of the elevators close rapidly after opening. Garay said he hasn't seen it happen often, but it does fuel distrust with the passenger elevator. 
Executive Director of Communications and Public Affairs Robert Lopez stated the reason for these elevators being closed off was because the school is "modernizing the elevator in the University Library North to better serve [the] community." 
Due to the elevator being built in the 1950s and parts no longer being available, the entire elevator is being rebuilt. According to Lopez, the effort to update the elevators is part of an initiative to better facilities throughout the campus. In addition, Lopez explains that "no formal complaints have been filed regarding [the] elevators."
Upon learning the elevators are indeed being modernized, Garay did express understanding towards the situation. "That's great," said Garray who thought people should be provided with answers, as it may help them understand why it's a long process. 
There is another elevator in the Library North section by the main desk, as well as two available elevators in the Palmer Wing of the library, that are available for students and staff to use while this modernization takes place. 
Lopez said the elevator in the Library North should be back in service within the next several weeks.
About the Photographer
Camille Jessie, Visual Journalist
Camille Jessie is a fourth-year studio art major who has been part of the University Times for five semesters. She is a visual journalist for the UT and...