Out with the Old, In with the New
North wing of the library sees new furniture and renovations for the remainder of the semester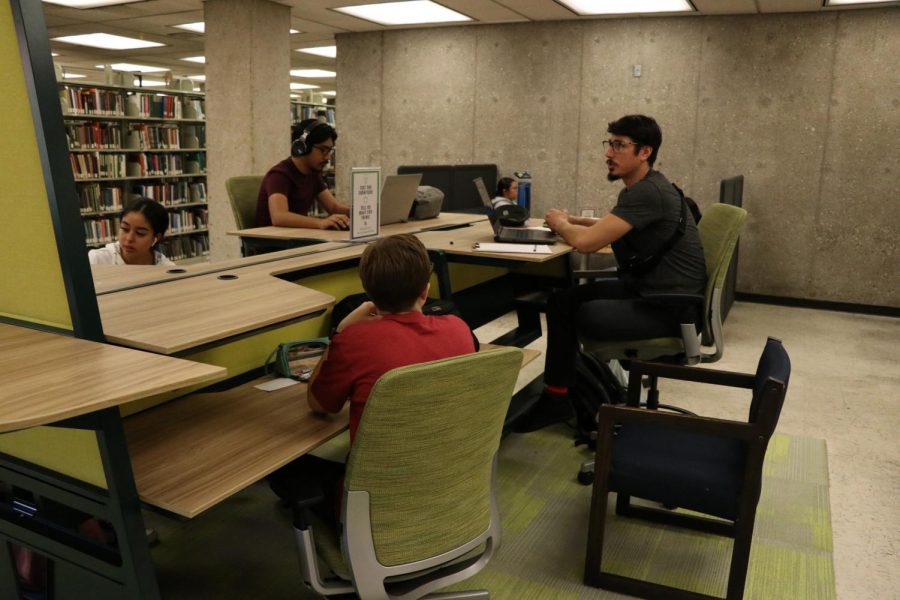 Students who walk up the stairs or exit the elevator doors in the north side of the John F. Kennedy Memorial Library can see some spaces closed off. The library has white sheets and yellow caution tape blocking certain paths with a pile of chairs nearby. Furniture and bookshelves have been moved. Students who encounter these spots will see a sign reading: "Library Upgrade In Progress." 
The second floor of the library is currently undergoing a modernization One of the visible changes students can see is a desk with two levels, containing a standing portion on the side. Students are encouraged to try out the new furniture that will be featured in the new renovated section of the library.
"It's a nice desk. It feels nice and comfortable, enough to stay here and study," said Cal State LA student Diego Rojas about the new desk.
Rojas explained that he studies on the second floor of the library regularly, and is happy that a location he spends a lot of time in is getting a renovation. Another seating addition Cal State LA students can look forward to are new sofas. 
Cal State LA student Samantha Serrano wishes the university could add more sofas because "it gets packed." Despite students enjoying the new furniture, one student brought up the concern of the crowdedness that the renovation is creating. 
"I think that it's a good thing that the library is being remodeled, but it needs to get done quickly. The library gets over crowded and there's no spots [to hang out]," said Anthony Cadenas.
Library renovations are to continue throughout the semester. Lisa Chavez, vice president for administration and finance, shared this comment to the UT about the expense of the renovation: "It is too early for any kind of statement since a scope of work and cost have not been determined."
The UT will continue to try to reach library officials as the story continues to unfold. 
About the Contributors
Camille Jessie, Visual Journalist
Camille Jessie is a fourth-year studio art major who has been part of the University Times for five semesters. She is a visual journalist for the UT and...