The dancer who found a new beginning in vegan cooking
Norma Pérez was stunned as she watched the 2005 documentary "Earthlings."
She couldn't shake off scenes of animals being skinned alive and close-ups of shelter dogs being euthanized.
With swollen eyes, she walked to the fridge in her kitchen, throwing every animal-based product  — beef, eggs, milk — into a large trash bag.
Next, she waged war on her closet, tossing all fur, leather and wool clothing into another large plastic bag.
She walked briskly outside, dumping the bags in the trash bin like they were filled with toxic waste.
Pérez went back inside and sat down. The realization of her new identity began to wash over her. 
"I'm vegan now," she thought to herself. Then she paused. "What the hell am I going to eat?"
That question led Pérez to a culinary journey culminating in her own vegan food business.
An outsider at home
It was perhaps the difficulties in Pérez's childhood that led her to develop a deep sense of empathy for those who are most marginalized or voiceless, including animals.
As a 3-year-old, she met her brother and four sisters for the first time in her family's living room in Los Angeles. The siblings had journeyed with her mother, Irma Pérez, to the United States from El Salvador to escape the Civil War.
At first, she thought she'd met new lifelong friends. But the stares she received from them revealed otherwise. Pérez said her siblings didn't make her feel like a welcomed part of the family.
"Why don't they like me?" she often wondered.
As the youngest and first born in the United States, Pérez said that growing up, she received more attention from her parents, which caused a rift between her and her siblings. Trivial fights over toys and favoritism made her feel as if she wasn't accepted by her family.
Maybe it was because she was the only one born in the United States. Maybe it was the texture of her hair, which was the curliest in her family. Her tight coils were distinct and her skin had the most melanin of her siblings.
"I've always felt apart from my family because of the fact that I just look different," Pérez said.
It took years of self-love to accept her voluminous curls and deep brown skin. Part of that journey was finding acceptance through the art of dancing.
An escape
When she was 14 years old, Pérez started dancing for Colors United, a dance group that focused on helping at-risk kids. That's where she discovered her love of performing. 
"My self-esteem has always been pretty" low, Pérez said. "But just getting on that stage and having the lights and that sort of validation from people… and then teachers giving me that inspiration and that motivation, that's what pulled me."
When it came to dancing, her talent helped set her apart in a good way. "I knew I kicked ass in that," the former dancer said. "As long as I'm confident here, I don't have to look at the negative stuff."
Pérez said there were some bad influences in high school and without dance, she said she might have "ended up six-feet under."
During her time with Colors United, a documentary film crew began to follow the dance group around and ultimately produced, "Colors Straight Up," in 1997.
The film portrayed her and other dancers in South L.A. who used performing arts as a way to escape negative influences. It was nominated for an Academy Award for best documentary feature.
Pérez made a career of dance, teaching it for over 20 years until she started experiencing severe lower back pain.
An end
In April 2015, Pérez's doctor told her a disc in her lower back was protruding and deteriorating and bone spurs were hitting her nerves. The condition, Osteoarthritis, would require her to stop dancing.
"I did this career for over 20 years and now it has been taken away from me," she recalled thinking, tears streaming down her face.
Her doctor informed her of two treatment options: Receiving regular injections or eating naturally anti-inflammatory foods.
"Oh, hell no," Pérez remembers thinking. "Having a big, huge damn needle going into the spine of my back? I don't think so."
She chose to improve her diet.
Pérez began researching what foods would ease her back pain. She discovered that meat consumption contributes to arthritis.
Watching "Earthlings" was the final push needed to give up meat and go vegan.
Adapting
Pérez grew up in a Salvadoran household where pan con pollo, pupusas and chicaronez were considered delicacies. She worried she would have to lose the foods that tied her to her Salvadoran roots.
"I'm about to lose my tradition, my culture, because I'm going to start consuming, probably grass!" she recalled thinking.
Pérez found a vegan Facebook group that introduced her to fishless filets and other non-animal products. After a while, Pérez started to get the hang of her new lifestyle and began experimenting.
With her first vegan holiday around the corner, Pérez needed to find an alternative to her family's traditional Thanksgiving turkey and Christmas tamales.
So, she looked to her mother.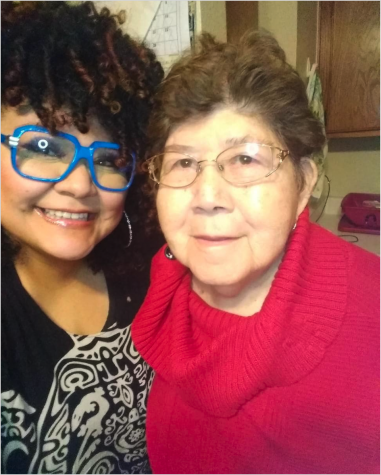 Standing side-by-side in the kitchen, Pérez and her mother, Irma began matching ingredients for tamales de pollo, a classic Salvadoran Christmas dish with a vegan option.
As they cooked, the familiar aromas of cumin and oregano told her she was headed in the right direction but Pérez really wanted it to taste like her mom's so she kept asking questions: "How much of this should I put in? How much of that?"
"I don't know!" Pérez remembered her mother saying in Spanish. "You just put a little bit of this. Why do you keep asking me? You taste it as you go."
The bickering ended with what looked like an authentic tamal de pollo but how did it taste?
"Aye mija, te quedó muy ricó," her mom said. "Wow, my dear. This was very delicious."
Pérez was thrilled. With her mother's approval, she kept working to figure out how to cook vegan Salvadorian food.
"That's when I kept experimenting and experimenting and using different substitutes," Pérez said. "Instead of using shrimp to make ceviche, I used hearts of palm. Instead of doing certain dishes with chicken, I would use mushrooms."
Her mother's guidance kept her new vegan lifestyle full of flavor and memories.
Growing up, Pérez said she felt she was forced to cook alongside her mother. Now, she's so thankful for those lessons from her mother.
"Everything that she taught me, it has come to life through my hands," Pérez said. "This whole thing is because of her. It's her essence."
A new beginning
It wasn't until one of Perez's friends suggested starting a business that she envisioned a new career path for herself.
With little mobility and no job, Pérez's friends saw she needed a new audience to please: hungry customers.
"They were the ones that really planted that seed,'" Pérez said. "Why not, you know? I mean I really do enjoy being in the kitchen. I really do enjoy making people happy with food."
In 2016, she branded herself and her at-home business as The Salvi Vegan.
She says the love of her culture and identity as an Afro-Salvadoreña is at the center of her work. 
"My family didn't really teach me that much about my history or the culture of Salvadoreños, so I had to go research the food," Pérez said. "I wanted to also learn the history of the food. It was also important for me to not just veganize the food. I also wanted to know where it came from, like the ancestry of it."
For instance, while researching Salvadoran food, she stumbled upon articles about El Salvador's native, colonialized, and oligarchal past. Over 11 million Africans were taken to Latin America to be enslaved by colonizers, according to one PBS documentary series.
Pérez, in her own research, found that in the 1930s, people with dark skin or African descent were banned from entering into El Salvador completely, according to a short documentary by La Prensa Gráfica Noticias de El Salvador.
"This, to me, started to click," Pérez said. "I had seen that in 1821, 95% of the population of San Miguel was of African descent."
Pérez took ownership of her Afrosalvadoreña identity and, in 2019, joined Afroos, an organization that fights for Afrosalvadoreño recognition in El Salvador's government.
Through her cooking, Pérez expresses her African roots by cooking dishes such as plátanos, vegan chainfaina and vegan sopa de pata.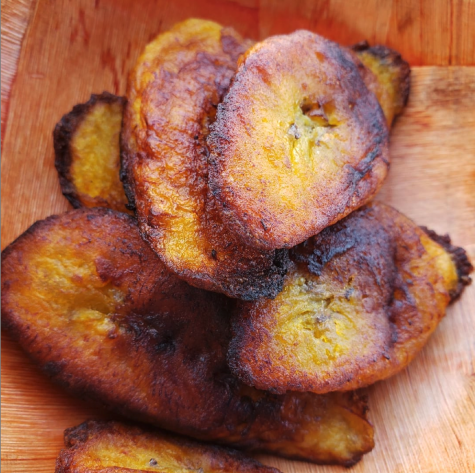 At this point, Pérez has mastered 55 vegan recipes and hopes to continue to 100. 
On her Instagram account, @thesalvivegan, Pérez conducts cooking tutorials for 14,000-plus followers. She also does short tutorials on her TikTok account where she recently taught her viewers how to make elote loco. 
Pérez said she is proud her food has made an impact on the lives of her friends, family and customers.
For instance, she reconnected with a former classmate, Sarita Dominguez, at a small reunion in 2017. 
"I was in a transition, as far as the way I eat and my lifestyle," Dominguez, a mother of two, said. Pérez "really inspired me to try vegan food. And because of her food, I realized, 'Wow, vegan food can taste good.'"
Dominguez, a medical assistant at Providence Hospital in Tarzana, watched "Earthlings" on  Pérez's recommendation.
That was the deciding factor. "Why am I going to continue eating meat," Dominguez said, "knowing everything that happens to these poor animals when there's another alternative that's healthy?"
Another fan, Karla Estudillo Fuentez of Loma Linda, found the Salvi Vegan on Instagram.
Estudillo Fuentes couldn't eat much of the Salvadoran and Mexican food at her wedding in 2017 because she had gone vegan two months before.
Thanks to the Salvi Vegan, she was finally able to taste some of the flavors she missed out on.
"I have actually eaten pan con pollo now but for reals. Well, for reals vegan style," she said.
Now, she orders food from the Salvi vegan to help her husband, who is Salvadoran, stay connected to his culture.
"For me, it's really important that he connects with his Salvadoran side," Estudillo Fuentez said. "I think about if and when we have children, I don't want them to not know that they're Salvadoran."
Pérez said hearing from happy customers is one of the great joys of her work. Though she still misses dancing sometimes, she is proud to share Salvadoran and vegan food with the world.
It is the stage that calls her name today.
Community News produces stories about under-covered neighborhoods and small cities on the Eastside and South Los Angeles. Please email feedback, corrections and story tips to [email protected]