The little nursery that could
Bell Gardens entrepreneur's passion for plants helps him overcome drought and other issues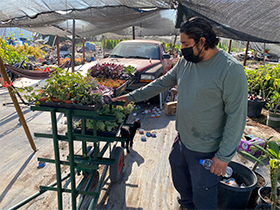 Some kids collect rocks or trading cards. For Angel Saavedra, he collected plants as a child.
He loved planting them and seeing them grow. It was a simple pleasure that brought him pure joy.
Slowly, he had so many plants and knew so much about them, that his friends and family members considered him an expert.
"People came to me" to ask questions about plants or get help, he said. "After a while, it just somehow turned into a business."
About three years ago, Saavedra and his wife started Aeonian Verde Nursery in Bell Gardens.
"We rented a space, a growing space across the street, from where we lived. And we had about maybe half an acre," Saavedra said. 
They worked the land to make many improvements, and it flourished with roses, daisies, and tulips and soon after, mostly California-native plants.
There were many proud moments, but there was also trouble brewing.
Saavedra had paid the rent in advance, but after a few months, he struggled and was late on a payment for the water bill.
The landowner wanted $2,000 to turn the water back on, which Saavedra didn't have. 
It got to the point where he had to buy water from other people.
"Are we about to lose everything we worked so hard for?" he wondered in those moments. 
They were in limbo the next few months. They still sold plants but they had to buy water from different places and people to keep the plants alive and healthy.
Then, one day he was with his wife, mother and friends, when he got a very unexpected call.
Saavedra had been subletting the land from someone who got in trouble and couldn't pay his part of the rent.
They would have to take everything off the land and leave the property in 15 days.
Saavedra was devastated: He and his family had spent almost all of their savings on the business.
"What will you do now?" his mother asked.
Saavedra had no words. Just worries.
"I never expected this," he recalled thinking. "I need time to think."
He said it was one of the saddest moments of his career.
"We went insane a little bit because we're losing everything," he said.
What made it worse is that their hard work was starting to become sustainable: They were getting so close to breaking even or earning a profit.
The main thing on his mind was taking care of his three employees and family.
They may have lost a lot already but he realized he still had them and the plants.
"It's still in our hands," he recalled thinking. "We will continue taking care of the plants."
At that point, he decided to keep living in the moment, caring for the plants and reaching out to people to find a new spot.
Soon after, they found a large field, bigger than his old lot, with three powerline towers on it.
He asked the landowner if he could purchase it. The landowner declined but said he'd consider it for $5,000.
After a while, his family managed to get $5,000, but the landowner still said "no."
While he was driving away, he stopped the car and called him back, asking if he could have any other possible spots. 
A few days later, the man called back.
"Yeah, you know, what? Just take it. Yeah, you guys can have it," he said.
They worked the land, started selling plants from the space, and even had parking for customers. 
Just as they saw some success, two things hit at once: The return of drought-like conditions in California and the pandemic.
He worried the Covid-19 pandemic could drastically affect not just the health of his family, but also his business since customers wouldn't be in the nursery as much.
To tackle the drought, he started using a lot less water and watering the plants for just over 30 seconds, as opposed to the typical six minutes for most garden owners.
Focusing the nursery on selling succulents and cacti has also helped since they require less water.
The pandemic didn't hit his business as much as he expected, though his sales dipped by about 5%.
But more recently, customers are returning, as are sales.
As the business grows, so do his dreams for it. One of the first is investing in technology that will one day allow them to move the plants more easily rather than doing it manually.
For now, he said, he is "just trying to enjoy it and live in the moment."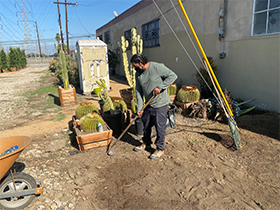 Did you know?
California is experiencing a D3 to D4 Drought, which is considered an "extreme" to "exceptional drought," according to Drought.gov.
2021 is one of California's driest year ever since 1924, according to the California Water Resources Board.
Nursery owners and farmers are some of the most affected. Area residents said they're pulling for their local farmers and plant shop owners because those are items everyone needs.
"They are being affected big time because those are people who don't make a lot of money" to begin with, said Luis Fernando Arango, a technician for the Los Angeles Sheriff's Department. "So if there's no water, then there is a lot of trouble." 
Fortunately, some residents say they are working to shift their planting strategies.
"I switched over to cacti and succulents and so on that don't require a lot of water," said Steve Wright, an employee for the Leland Weaver Library in South Gate. "It's going to be tough. But there are a lot of California native plants that we have here."
Community News produces stories about under-covered neighborhoods and small cities on the Eastside and South Los Angeles. Please email feedback, corrections and story tips to [email protected]