BREAKING: Two people shot half a mile from Cal State LA campus
A man and a woman were shot on Valley Boulevard across the street from The High Note, a cannabis dispensary near the Cal State LA Golden Eagle apartments. The shooting occurred on Tuesday, Feb. 27, at around 12:15 p.m., according to a campus-wide email from Cal State LA's Public Affairs and Communications office.
The woman was reported on the Citizen app to have a gunshot wound to the chest and the man was reported to have a gunshot wound to the leg. Both were reported to be approximately in their late 20s and are not affiliated with Cal State LA, according to Public Affairs.
The Citizen app sends alerts about nearby criminal activity.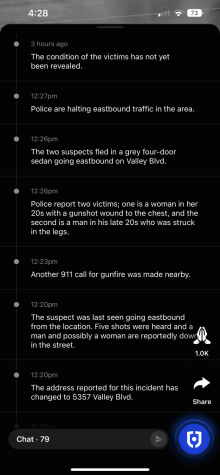 There have been no further details on the current condition of the victims or the status of any suspects. No details about how many suspects were involved have been released yet.
Rudy Perez was working as a security guard at the dispensary across the street and said he witnessed the shooting.
"I wasn't really surprised that this happened," Perez said. "I mean this is East L.A. and this kind of stuff happens a lot around here. The police left after about an hour, the people who were shot were alive when the paramedics took them so that's good."
There has been a 35% increase in homicides since the COVID-19 pandemic in Los Angeles, with a surge in gun violence.
Around campus, several students said they find this incident concerning but not surprising.
"I'm not shocked to hear about this," said third-year Daniel Constanta. "Over the past few years, it seems like there has been an increase in shootings all over the country. I feel like there's kind of a systematic issue going on that keeps these incidents occurring."
According to an article from BBC, the number of mass shootings in the United States have been rapidly increasing since 2019. In 2018, there were only 336 mass every year. In 2022, there were 647 mass shootings in the United States.
"It takes time to process this," said grad student Elena Vachon. "I find it shocking because it was so close to campus. It's definitely scary but considering how many have been happening in this country recently, and especially after the shooting in Monterey Park, I can't say that this is shocking. I hope that campus safety will be aware of this and take extra precautions."
At 3:33 p.m., the Public Safety office released a statement via Public Affairs and Communications that said, "Two people were shot today, Feb. 27, in an incident in the 5300 block of Valley Boulevard near the Golden Eagle Apartments at about 12:15 p.m. The shooting victims were not affiliated with Cal State LA. Their conditions are not known. A section of Valley Boulevard was closed while police investigated. The area is now clear, and there is no threat to the campus. Los Angeles Police Department (LAPD) officers said the suspect fled the scene in a gray sedan."
LAPD encourages anyone with information about the incident to contact the LAPD Hollenbeck Community Police Station at 323-342-4100.