BREAKING: The countdown to commencement comes with disappointment
This article has been updated to add a statement from the university.
One hundred and nine days until commencement and graduating students have mixed feelings about what Cal State LA has in store for Commencement 2023.
On Feb. 1, Cal State LA sent a campus-wide email alerting the Golden Eagle community that Commencement 2023 will be held in the commencement pavilion from May 22-26, 2023.
The detailed schedule that includes when each college graduation date is now posted on the commencement schedule, located on the commencement website.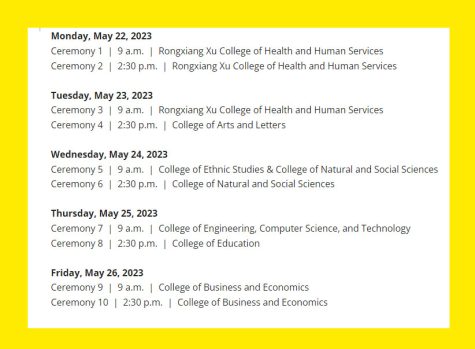 The commencement pavilion is a "festive shaded structure that will be built in the event space on the north side of campus in Lot 5," according to the school-wide email.
Public health major Marco Toledo is graduating in May 2023 and is excited that the schedule is finally public so he has time to plan ahead. Toledo is also disappointed to hear that he will be walking in a parking lot.
"Graduating in a parking lot just doesn't sound acceptable or professional," Toledo said.
The parking lot is the best option because of the need for "shade covering, nearby parking, accessibility, venue size and cost," according to a Cal State LA Public Affairs spokesperson.
Computer science major Dean Abir, also graduating this semester, thinks that university commencement ceremonies should be bigger.
"It's a little embarrassing that commencement will be in parking Lot 5," Abir said. "Naming it 'commencement pavilion' doesn't really fool anyone. It's sad because many students have worked years towards this big step in their lives but their high school graduation ceremony probably looked better than their university one."
The university thinks that holding the ceremonies on campus allows greater control of the ceremonies, including allowing students to have guests, have their names called, cross the stage and other elements of commencement that graduates treasure, according to the Public Affairs statement.
"Due to cost and availability, off-campus stadium venues would require us to consolidate commencement to fewer days and do not provide shade covering for graduates and their guests," the spokesperson said. "Holding commencement over fewer days would also result in significantly longer ceremonies and the elimination of important aspects of the celebration, such as having the names of graduating students called and hooding."
Each graduating student is allotted four guest tickets for their ceremony during the online registration period, according to the commencement website.
"Guest tickets can only be reserved by the graduating candidate during the open registration from April 10, 2023, at 9 a.m. PST until April 28 at 5 p.m. PST, using MarchingOrder's online ticketing platform," the campus-wide email said.
After the registration period, graduating students are able to get unclaimed tickets on a first-come, first-served basis.
"Unclaimed guest tickets, if available, will be distributed online in May," the university spokesperson said. "Please note that the number of additional guest tickets will depend on guest participation and venue capacity."
While the amount of tickets is enough for Toledo's immediate family, he thinks they might not be enough for students on a day that is considered to be very special.
"I think the tickets are not enough if students have big families," he said. "Maybe if we had a different venue, then the larger capacity would've allowed more tickets."
Graphic design major Salvador Gutierrez also thinks that four tickets are not enough for bigger families and for close friends. Gutierrez said the minimum amount of guest tickets should be six.
"The whole experience seems very limiting," Abir said. "Overall, this feels like a discount version of what commencement should be."
The university said that the north side of the campus provides abundant space for the construction of a large and festive event space. In case of inclement weather, graduates and guests will have covering and shade, and the ceremonies will continue.
"The Commencement Pavilion will be conveniently located near a large parking structure, making it easy for graduates and guests to park nearby the event location," the university said.
MASKING
Masks are not required during Commencement 2023 because the commencement pavilion is considered an outdoor venue.
Gutierrez is concerned about the ventilation of the commencement pavilion once it's filled with many people.
"It's an outdoor venue but it's still built as an enclosed structure so it might get too hot in there too," he said.
More information on health, safety, and security could be found on the commencement website.