Will dog owners be cited as a way to enforce leashes at Eagle Rock parks?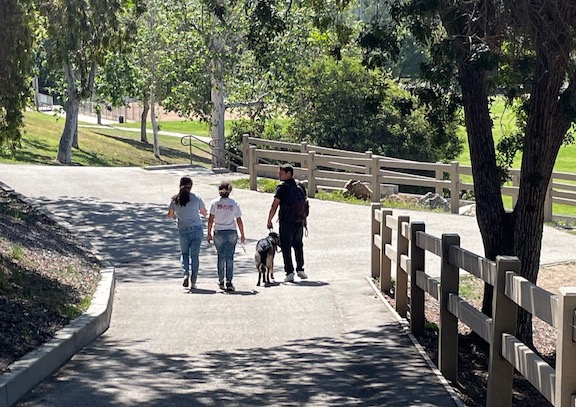 Pet owners like Johana Cabrera lead their four-legged friends through the Eagle Rock recreation center more cautiously after recent tensions overuse of leashes throughout the park
In June, Cabrera's 23-year-old daughter, Jessica, took their 6-month-old German Shepard Nova for a walk and crossed paths with two pitbulls as she was leaving the park.
Jessica pulled Nova to the side to let the bigger dogs pass but was approached by one of them. Although the dogs appeared to be in a playful spirit and were not necessarily aggressive toward Nova, she was tumbled by one of the pit bulls. After picking the puppy up from the ground, Jessica noticed a small puncture wound on Nova's leg.
Johana said the owners were compassionate and tended to Nova's wounds with a first aid kit. After a couple of days of cleaning with hydrogen peroxide, Nova's leg was fully healed.
Still, the incident made the dog mom wary.
"My concern is, whether it's my dog or other dogs, we don't want them to be approached since we don't know their reaction toward each other," she said. "We kind of stopped taking her as often as we were."
As more residents complain about dog owners not having their pets on leashes, park officials look to crack down on non-compliance with the help of animal services and the Los Angeles Police Department. The recreation center has begun posting signs throughout the park that enforce the city's leash laws, though the signs don't always stay posted. 
"We've been really trying to get compliance from the dog owners. We put up banners throughout the park, six large banners, 6-by-3 foot banners, and they lasted about a month before they were taken down or torn down by I'm guessing angry dog owners," Benjamin Juarez, the rec center's facilities director, told the Eagle Rock Neighborhood Council at a board meeting March 1, hoping to discuss the issue further at the next meeting on April 5. "We've worked with animal services and LAPD, and the next step would be them issuing tickets to patrons who have their dogs off-leash, we really don't want to do that. We don't want to take it that far."
Although owners can have their pets off of the leash within the fenced-off designated dog park area, once they are outside of the canine cage, which measures nearly one acre, leashes must be on at all times. However, most people avoid the dog park section since the high-traffic area can quickly become crowded, congregating towards the open grass areas and dirt trails surrounding them. 
A study from the National Public Library of Medicine found that the result of both dogs on a leash is more effective in "reducing antagonistic encounters" between dogs when compared to just one leashed pet. 
While the on-leash off-leash debate can be tricky, some dog owners like Hannah Elder are not thrilled by the thought of being ticketed for not complying with park rules.
"I don't like the idea but I understand. I think if your dog is off-leash you should have accountability and own up to that," said Elder, using a leash to walk her dog on a recent morning at the recreation center. "I don't think that a public place like this is the place to do that."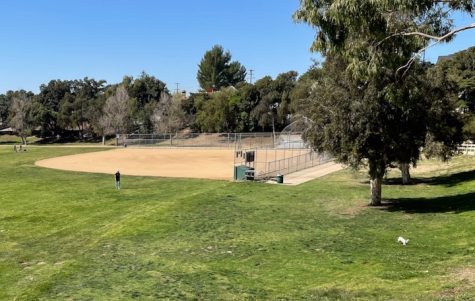 With spring sports starting up next month, park officials face the imminent challenge of keeping pets off the field and away from players. Juarez said that leash enforcement has been an ongoing issue and that the recreation center regularly receives complaints, including an incident of a woman being bitten last year.
"We've had a lot of complaints. We had a lady get bitten actually last year, and we're getting ready to start our baseball program and open our fields up, and last year we were having a problem with dogs running up on baseball players and little kids," Juarez said to the board.
Juarez said his office received complaints weekly in an email to the UT. Park staffers repeatedly pleaded with dog owners to leash their pets after dogs chased players and balls during youth baseball league practices and games, disrupting the program angering parents.
Community News produces stories about under-covered neighborhoods and small cities on the Eastside and South Los Angeles. Please email feedback, corrections and story tips to [email protected]